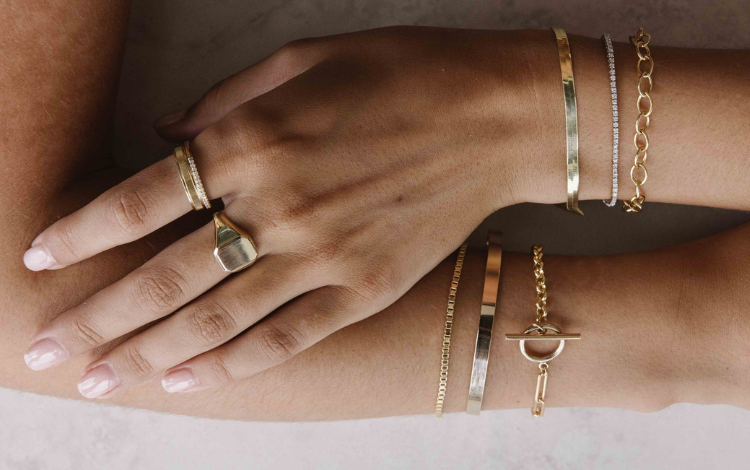 How to book a permanent bracelet appointment:
Using an AMJ Forever Gift Voucher.
1. Begin by selecting your preferred location for the appointment. AMJ Forever is available at Warringah Mall, Bondi Junction, and Byron Bay.
2. Select and book your desired time. We require a $20 fee to secure the appointment. This fee covers the cost of the service and does not get deducted from the total cost of the appointment. 
3. At the checkout, utilise the unique code on your voucher to cover the Service Fee. Upon completion, you will receive a confirmation email at the provided email address.
4. Remember to bring your voucher to the appointment.
5. During your session, you'll have the exciting opportunity to collaborate with our jewellers in designing your dream bracelet. The chain starts at $80, with charms ranging from $10 to $30. Your jeweller will assist you in creating a bracelet that aligns with the remaining value of your voucher. Should you desire a design surpassing the voucher amount, you can cover the additional costs.
6. After your appointment, proceed to the checkout counter. Utilise the voucher code to pay for your chosen bracelet. If there's an outstanding balance, kindly cover the remaining amount.
If you have any inquiries, feel free to reach out. We're here to assist you! Get in touch.
AMJ Forever is our unique take on permanent jewellery. Using a state of the art jewellery welder, we permanently fix your choice of gold fill or sterling silver chain and design to your wrist. 
To secure your appointment and cover the initial service fee, we charge a $20 deposit. Please note that this deposit does not get deducted from the cost of the bracelet, and final pricing will be determined during your appointment based on your chosen design.
Forever Bracelet prices start from $80.00 and increase as you make customisations. 
Additional charms start from $10 and range to $30.
Our Forever Bracelets are made from 14K Gold-Filled or 925 Sterling Silver.
You can choose from our range of 14k gold-filled and 925 sterling silver chains with the option to customise with pearls and engraved charms. You can also pick from our existing designs and have your favourite AMJ piece fixed onto your wrist without the clasp. There are a few exclusions to this but please talk with our in-store jeweller to find out more.
Currently, AMJ Forever is available at Bondi Junction, Byron Bay and our Warringah Mall pop-up. Stay turned for updates regarding Freshwater.
Our Forever Bracelets are made of either 14k gold-filled or 925 sterling silver which means they are water-resistant and anti-tanish. 
Of course! Email us at enquiries@alanamariajewellery.com 
Our Forever Bracelets are made of either 14k gold-filled or 925 sterling silver which means they are water-resistant and anti-tarnish. If you want to give it a shine, simply polish with a polishing cloth. 
To remove simply take kitchen scissor and cut at the welder point. We recommended to keep your AMJ Forever chain as we provide complimentary re-welding.