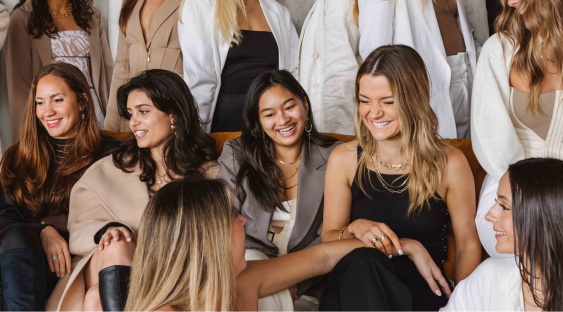 Work with us
Join our growing team today!
Alana Maria Jewellery is seeking an Inventory and Stock Transfer Coordinator to join our dedicated team. This vital role involves managing and optimising our inventory operations across various locations. As the sole member of this department, you will report directly to the Operations Manager, ensuring the seamless flow of inventory between our different company locations. Your responsibilities include maintaining precise inventory records, conducting physical counts, implementing inventory control measures, and monitoring stock turnover rates. You will coordinate efficient stock transfers, prepare essential documentation, oversee quality control, identify process improvement opportunities, and collaborate with various departments to meet inventory and transfer requirements. Compliance with regulatory standards and generating insightful reports will be key aspects of this role. If you're a detail-oriented professional with a passion for inventory management and process optimisation, we invite you to be part of our dynamic team at Alana Maria Jewellery.
Employment Type:
Full-time
Responsibilities:
Maintain accurate inventory records, including stock levels and item details.
Regularly conducting physical inventory counts and reconciling them with records.
Implement inventory control measures to reduce shrinkage and losses.
Facilitate the transfer of goods between different company locations or warehouses.
Ensure that stock transfers are executed efficiently and in a timely manner to meet demand.
Coordinate with relevant departments and personnel to plan and execute transfers. 
Prepare documentation for stock transfers, including packing lists, shipping documents, and receipts.
Facilitate stock transfers within the company. 
Maintain detailed records of all stock transfers for auditing and reporting purposes.
Ensure the quality and condition of transferred goods meet company standards.
Handle any quality control issues or discrepancies that arise during stock transfers.
Identifying opportunities to optimise stock transfer processes, reduce costs, and improve efficiency.
Recommend and implement process improvements as needed.
Collaborate with various departments, including procurement, production, and distribution, to meet inventory and stock transfer requirements.
Communicate with internal stakeholders to provide updates on stock transfer status and resolve any issues.
Generate regular reports on inventory levels, stock transfers, and related key performance indicators.
Train and supervise staff involved in stock transfers and inventory management.
Requirements and Experience:
Proven experience in inventory and stock transfer coordination.
Strong understanding of inventory control measures and best practices.
Excellent organisational skills and high attention to detail.
Proficiency in using inventory management software and Microsoft Office applications.
Effective communication and interpersonal abilities.
Ability to collaborate with cross-functional teams.
Work Eligibility:
Must be eligible to work permanently in Australia
Benefits:
Generous staff discounts and incentives.
Opportunities for growth and promotions within the company.
Application Process:
If you are interested in joining our team at Alana Maria Jewellery, please submit your resume and a short cover letter to careers@alanamariajewellery.com. Please use "INVENTORY AND STOCK TRANSFER COORDINATOR" as the subject line of your email.
We thank all applicants for their interest, but only shortlisted candidates will be contacted for further consideration.