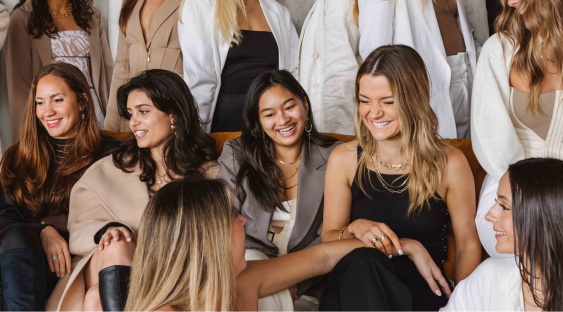 Work with us
Join our growing team today!
If you're interested in joining our fun and friendly team at Alana Maria Jewellery, please send your resume and short cover letter to: careers@alanamariajewellery.com with 'STORE MANAGER - FRESHWATER' as the subject line. 
RETAIL MANAGER 
Alana Maria Jewellery is looking for a Store Manager to join our team of staff located in the Northern Beaches of Sydney. The Store Manager encompasses a role of leadership and initiative to maintain an encouraging workplace culture, whilst emphasising the importance of achieving company KPIs and delivering an exceptional in-store customer experience. This position is ideal for individuals who can inspire and motivate a team dedicated to maintaining our outstanding reputation for style and customer service. 
Requirements and Experience: 
3-5 years of retail sales and at least 1 year of proven retail management experience is desirable, but not essential.
Certificate IV in retail management is desirable, but not essential. Knowledge and training in the Fashion and Design Industry is desirable. Thorough understanding of the brand and values at Alana Maria.
Proficiency in customer relationship management, business service models, and consultative selling techniques. 
Prior experience in achieving individual and team KPIs.
Strong analytical skills and the ability to interpret sales data. 
Excellent communication skills.
Exceptional organisational skills, maintaining high standards for quality and quantity through a systematic, methodical, and orderly approach. 
Must have a strong attention to detail. Experience in Visual Merchandising is advantageous.
Previous experience in inventory management is advantageous.
The ability to hold difficult performance conversations with employees in a professional and diplomatic manner. 
Tasks and Responsibilities: 
Delegate daily tasks to retail and ensure tasks are completed to expected company standards.
Identify and implement continuous improvement opportunities within the business. Motivate and inspire the team, recognising high performance and best practice innovations.
Lead by example in providing exceptional customer service.
Monitor and uphold store KPI's, and continuously implement strategies to meet store KPI's.
Management of communication between team members and departments.
Management of queries and feedback from customers.
Enforce store policies and procedures.
Work Eligibility 
Can work permanently in Australia.
Availability to work a Tuesday to Saturday roster is required. 
Employment Type 
Full-time salary position 
Here at Alana Maria, we are passionate about creating a quality in store experience for our customers. A suitable employee will work closely with Senior Managers, the company Director, and various departments. Employees will enjoy generous staff discounts and will be rewarded for their hard work, and are provided the opportunity for growth and promotions within the business.
Life at AMJ