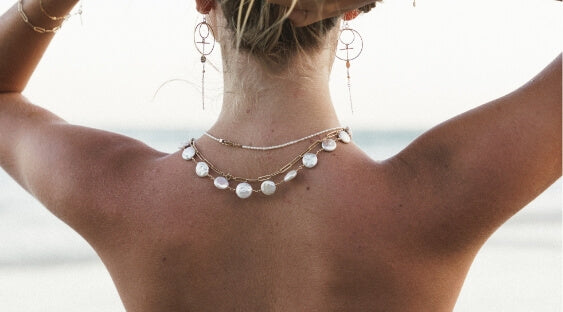 Alana Maria Jewellery
A little more about us...
About us
Alana Maria Jewellery is an Australian jewellery label dedicated to designing and producing everyday luxury. Our pieces are handcrafted and made-to-order, by a team of skilled artisan jewellers in Sydney, using high-quality and long-lasting materials. Each piece is meticulously crafted with care and intention, reflecting our passion for creating timeless treasures that resonate with the spirit of the modern woman. Our collections boast premium solid gold, 925 sterling silver and most notably our signature 14k gold-filled and authentic freshwater pearls, which have gained widespread recognition and a devoted following. At Alana Maria we pride ourselves on bespoke designs, handmade craftsmanship and quality materials. 
As trailblazers in the jewellery industry, we embrace a modern approach to jewelling that redefines the boundaries of luxury and enables a slow, circular and sustainable evolution as a brand.
Meet Alana:
The face (& hands) behind the brand.
The face (& hands) behind Alana Maria Jewellery is Alana herself. A 25-year-old Australian designer & self-taught jeweller from Sydney's Northern Beaches. Alana's passion for jewellery design was ignited at a young age when she began selling beaded bracelets to her primary school peers. As she grew, so did her dedication and in high school began experimenting with the designs and materials we are known for today. 
Little did she know, the creative drive that fueled her childhood hobby would eventually pave the way for the entrepreneurial journey to come…
After years of selling out of her bedroom and through mailbox exchanges, in 2018, alanamariajewellery.com was launched and 3 months later, Alana secured the lease for her first store in Freshwater – followed soon after by a second store in Byron Bay and, most recently, a third store in Westfield Bondi Junction – where her creations stand alongside Australia's largest retailers.
Officially Bondi Junction's youngest leaseholder, Alana, cut the ribbon on her 25th birthday to a line of over 200 excited shoppers. This milestones marked a significant moment for her and her growing team of 50 employees.
Since then Alana has taken the brand across the globe, popping up in Los Angeles and gracing the bright lights of New York City with a billboard in Times Square. 
With the world at her feet, Alana is determine to propel her brand to high heights and to continue creating jewellery that embodies sentiment and luxury. 
 "Our jewellery has become a part of so many people's stories, signifying and celebrating birthdays, graduations, engagements, job interviews and more and we are so proud to have played a small role in these moments with our customers." - Alana Ellis.